STREAM A SMART
Automatic single-sided edgebanding machines
INVISIBLE
EDGEBANDING
No joints and no glue line, in perfect harmony with the panel.
Air Force System, available on Biesse edgebanding machines,
is based on the physical principle of convection.
By using a compressed hot air system, the edge bonds perfectly
with the panel guaranteeing resistance to water
and heat and an excellent long lasting quality finish.
PRACTICAL
DESIGN
An innovative yet simple design is the hallmark of Biesse's distinctive identity.
The transparent polycarbonate reinforced protection door is designed
to guarantee maximum visibility for the operator. Fitted with 5-colour LEDs
indicating machine status, it ensures that processing phases can be easily monitored.
Technology at the user's service
New SMART TOUCH control 23" Immediate, user-friendly programming thanks to the touch-screen control panel.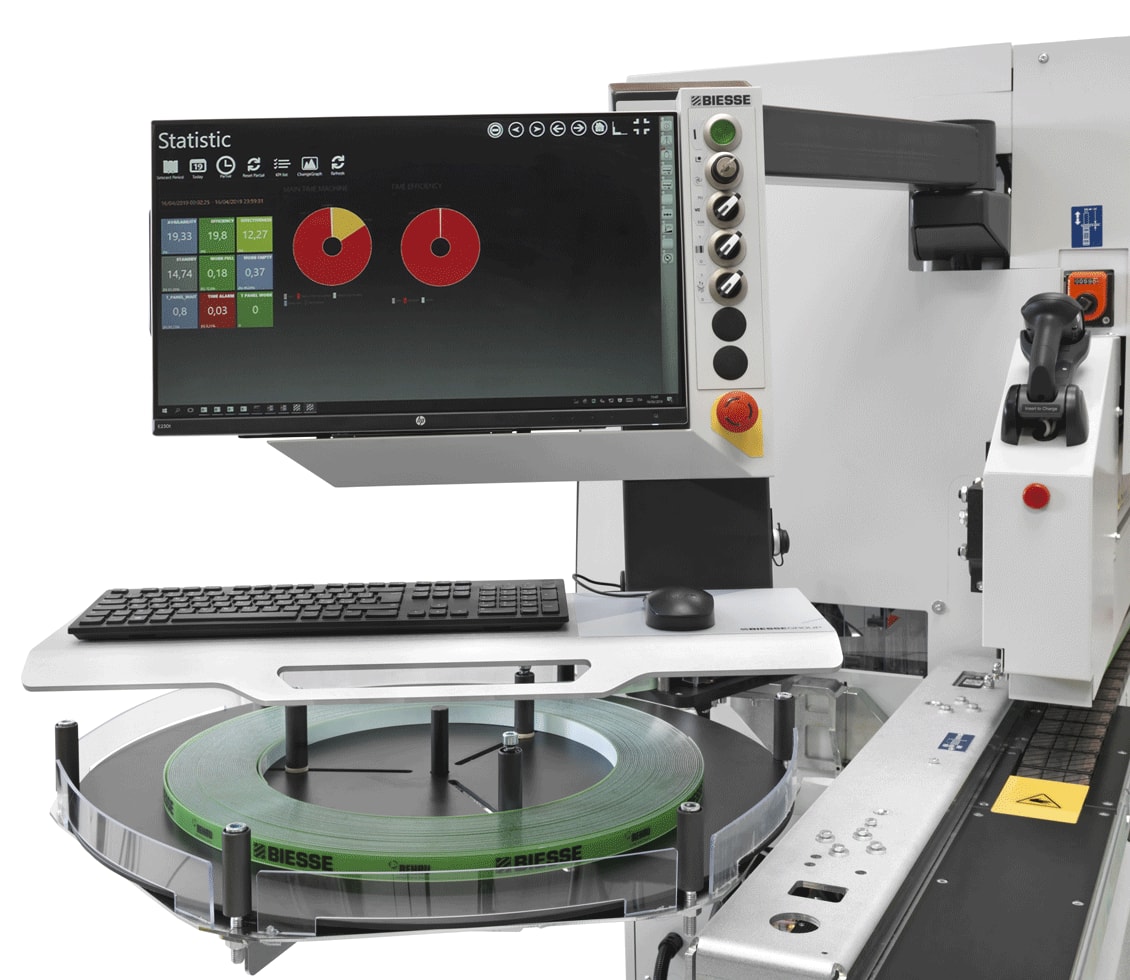 ROS
Integrated robot solutions.
Biesse offers its customers pragmatic solutions for factory automation.
ROS robotised solutions ensure a marked increase in production and total reliability of both the production process and the unloading operations, even in a wider context of industrial automation.
Synchro
Loading and unloading solutions. Automated cell for machining a batch of panels or doors.
Synchro is a loading/unloading device that transforms the Rover machining centre into an automatic cell for producing a stack of panels autonomously without the need for an operator:
it eliminates the risk of damage in the case of heavy panels that need to be handled by 2 operators
it's easy to use, because the machining centre program also contains the Synchro command instructions
it has limited overall dimensions, and can be positioned to the left or right of the machining centre
it comes with various configurations, depending on the size of the panels to be handled and the layout of the stacks.