ROVER A EDGE 16
NC edgebanding machining centre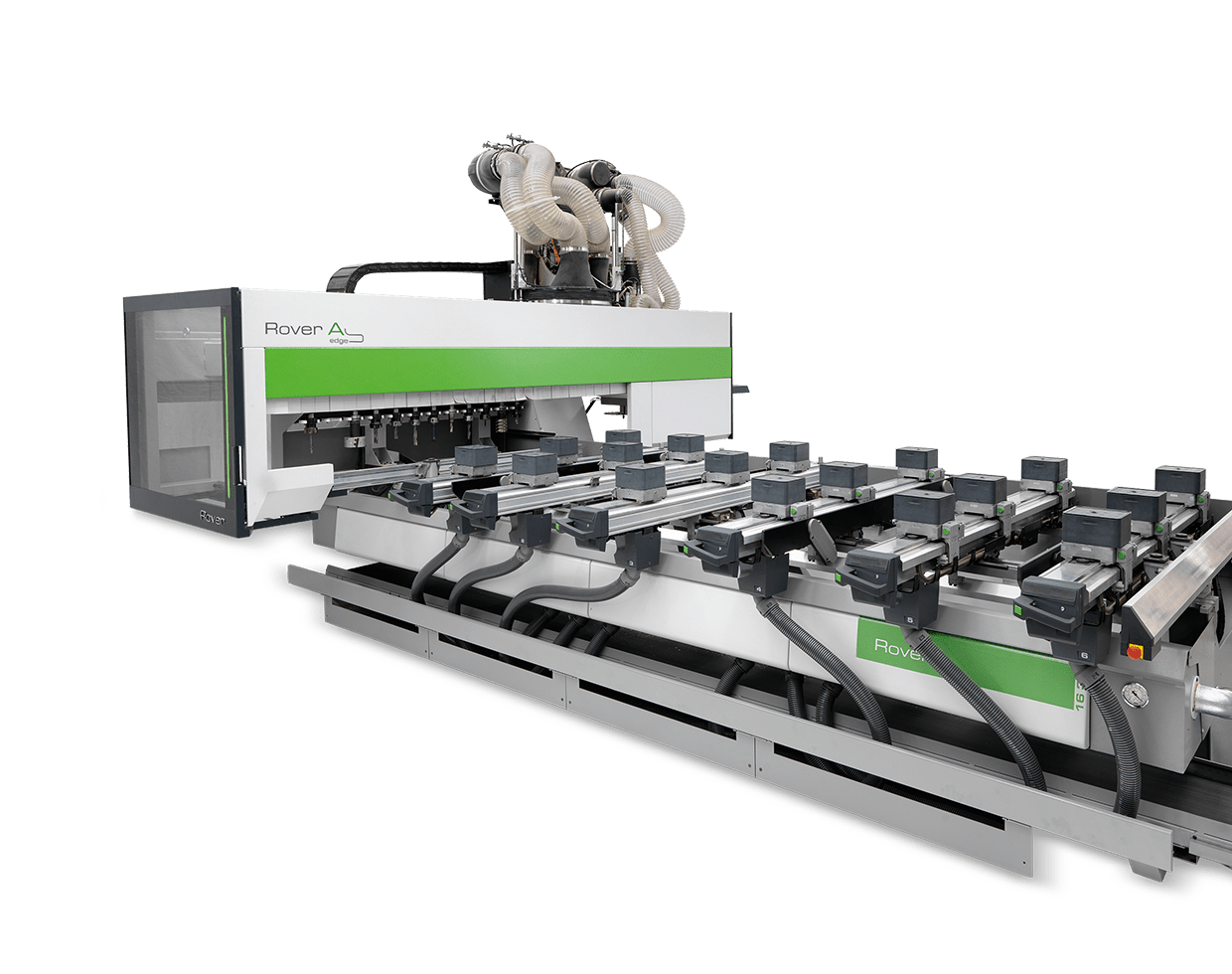 MANUFACTURING
SHAPED AND
EDGEBANDED
PANELS WITH
A SINGLE MACHINE
Rover A Edge is an edgebanding machining centre that supports the machining of shaped panels,
which can be edgebanded on a single, compact, high performance machine.
It is ideally suited to small and large joineries that need to manufacture
either odd size products or standard size products in small batches.
ROBUST
EDGEBANDING
Edgebanding has always been based on applying glue directly to the panel;
Biesse has followed this principle and applied it to straight edgebanding
as well as shaped edgebanding performed by machining centres.
Maximum bonding, possibility of applying thin edges and 3D transparent edges,
easy maintenance and panel cleaning during the machining cycle.
A perfect combination of Biesse technology and Italian genius.
ROS
Integrated robot solutions.
Biesse offers its customers pragmatic solutions for factory automation.
ROS robotised solutions ensure a marked increase in production and total reliability of both the production process and the unloading operations, even in a wider context of industrial automation.
Synchro
Loading and unloading solutions. Automated cell for machining a batch of panels or doors.
Synchro is a loading/unloading device that transforms the Rover machining centre into an automatic cell for producing a stack of panels autonomously without the need for an operator:
it eliminates the risk of damage in the case of heavy panels that need to be handled by 2 operators
it's easy to use, because the machining centre program also contains the Synchro command instructions
it has limited overall dimensions, and can be positioned to the left or right of the machining centre
it comes with various configurations, depending on the size of the panels to be handled and the layout of the stacks.
The innovative production line, unique to the industry, for the high volume production of edgebanded curved panels