ROVER A 12/15
NC processing centre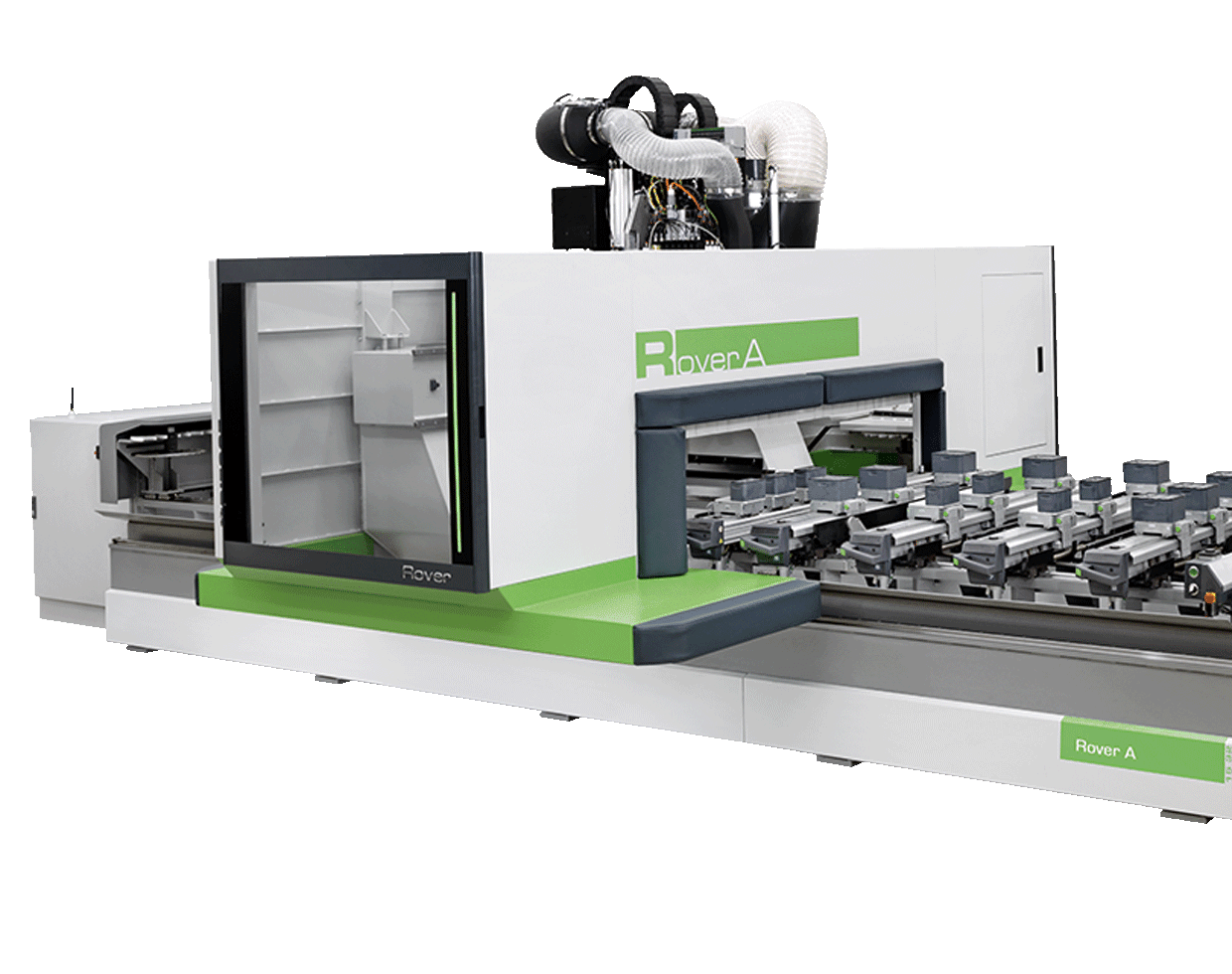 THE FIRST
INVESTMENT FOR
GREAT GROWTH
Rover A is the new NC processing centre offering top performance and flexibility.
It's designed for the customer who wants to invest in a product that can process any type of element quickly and economically.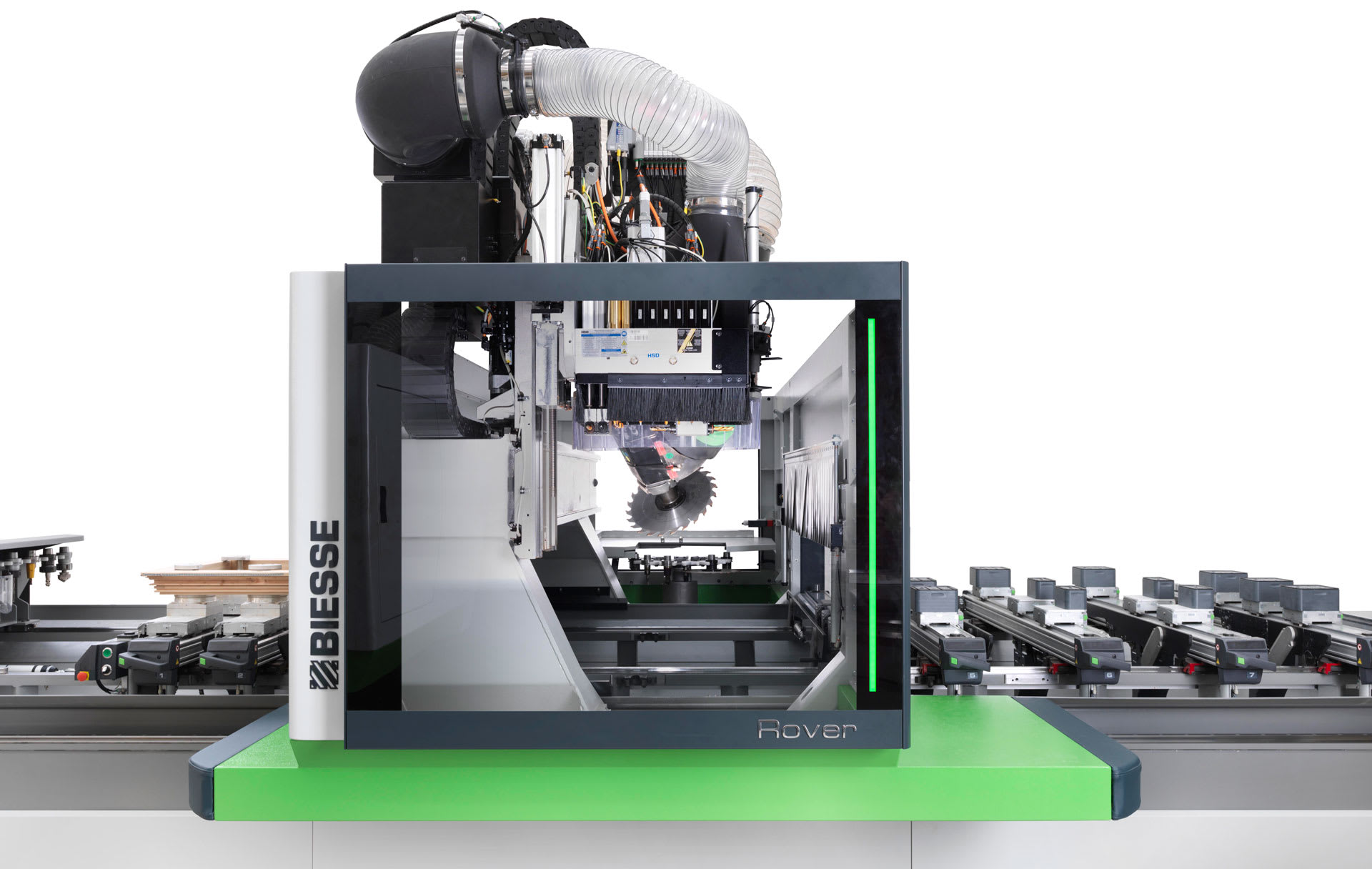 TOP-OF-THE-RANGE
COMPONENTS
The new BH29 2L boring head is equipped with automatic lubrication and a highly efficient rigid suction cap for a cleaner environment. It's liquid-cooled for maximum precision.
USER-FRIENDLY
TECHNOLOGY
The 5-axis operating head, equipped with 13 kW HSD spindle and with 360° continuous rotation on the vertical and horizontal axes,
enables the machining of complex-shapes ensuring quality, precision and absolute long term reliability.
SAFETY
Biesse machines are designed to work in complete safety.
Various solutions available:
With the new "full bumper" solution, the work table can be accessed from every side - this is the most ergonomic solution.
Solution with mats only, for speed and productivity.
Bumper plus photocells solution, combining productivity with ergonomics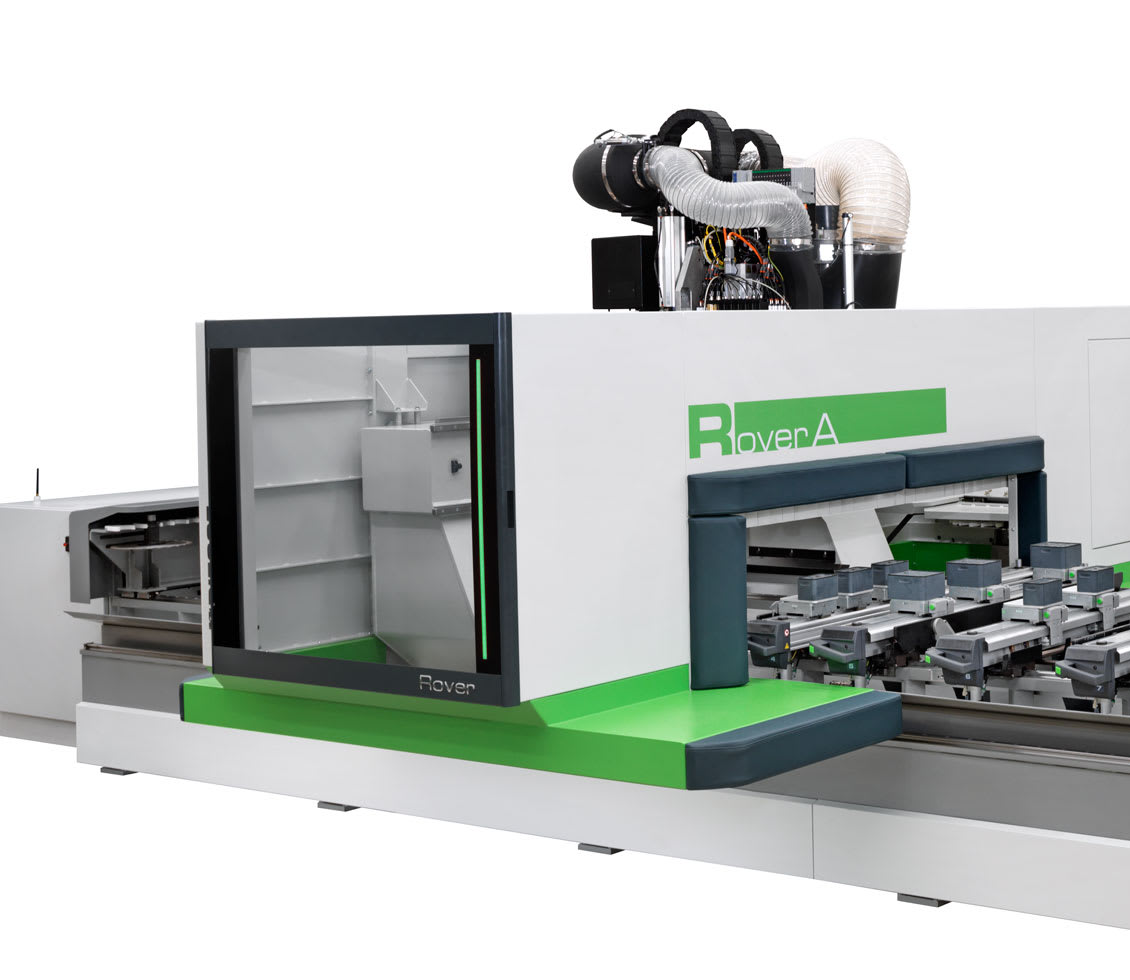 ROS
Integrated robot solutions.
Biesse offers its customers pragmatic solutions for factory automation.
ROS robotised solutions ensure a marked increase in production and total reliability of both the production process and the unloading operations, even in a wider context of industrial automation.
Synchro
Loading and unloading solutions. Automated cell for machining a batch of panels or doors.
Synchro is a loading/unloading device that transforms the Rover machining centre into an automatic cell for producing a stack of panels autonomously without the need for an operator:
it eliminates the risk of damage in the case of heavy panels that need to be handled by 2 operators
it's easy to use, because the machining centre program also contains the Synchro command instructions
it has limited overall dimensions, and can be positioned to the left or right of the machining centre
it comes with various configurations, depending on the size of the panels to be handled and the layout of the stacks.
Software
A single platform to manage all machine processes.
Software for ROVER A 12/15
B_SOLID
High-tech becomes accessible and intuitive
B_SOLID is a 3D cad cam software application that supports the performance of any machining operation thanks to vertical modules designed for specific manufacturing processes.
The NC processing centre designed for craftsmen who need to automate their production process as well as smallmedium enterprises that specialise in custom made products.