Action Giromari
Biesse technology and creativity by Action Giromari
Action Giromari is a creative workshop that has been working with laser branding and engraving for over 20 years.
Developed at a time when globalisation and, to some extent, standardisation were hallmarks of the global culture and economy, the company offered the market a chance to preserve and strengthen the personal aesthetic of creatives, designers and companies. The company stands out for its ability to work with any type of material.
"We don't develop a single category of products. Rather, thanks to the wide variety of materials we work with and the varied technologies we use, we are able to tailor any project, both for small scale and mass production. We develop stands, signs, branding products and anything that relates to visual communication. Other products include coverings, countertops and custom made interior design products for stores.
We also work with several architects, who send us their designs. Our clients mainly ask us to design and create products that highlight their identity as a company to help them stand out on the market through creativity and design",
Raffaele Bastianoni, the company owner, explains.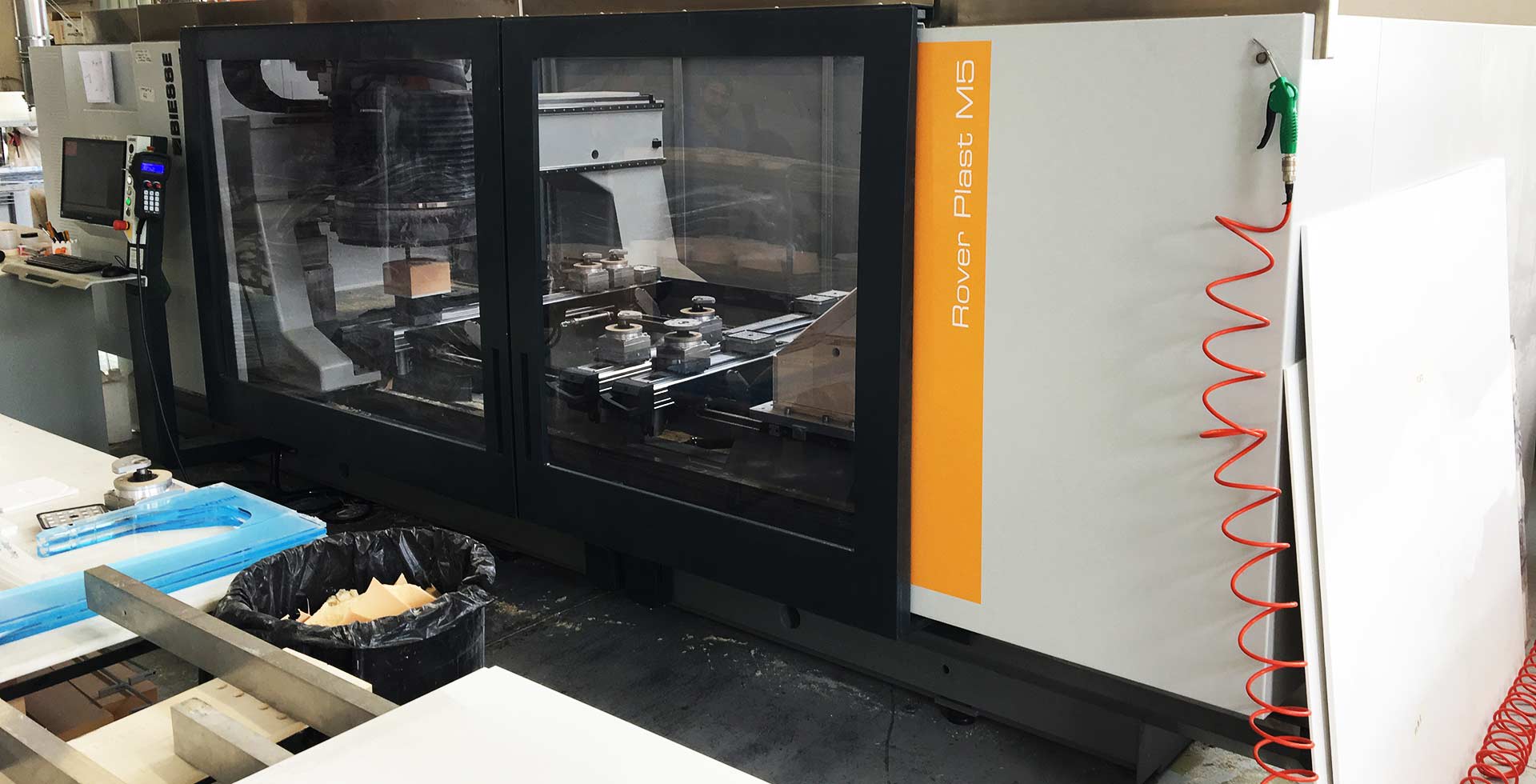 Action Giromari handles every phase of production itself, from prototyping to engineering to packaging, every single step is inspected first hand. Numerical control technology allows Action Giromari to cut, mill, score and shape each piece. The steps that follow (assembly, gluing...) all the way to final finishing, are exclusively carried out by hand. "Biesse technology plays a key role in allowing us to be more versatile and offer ad hoc solutions. Thanks to the new Rover Plast M5 purchased in May 2016 we have increased our production of complex shapes and 3D objects: unique products that have great value on the market. When we chose Biesse, an Italian company that offered reliability and know how, we weren't simply interested in the new numerical control milling cutter, rather we acquired a veritable partnership. We consider Biesse a strategic partner for Giromari's technological development" Bastianoni says in closing.
Our clients mainly ask us to design and create products that highlight their identity as a company to help them stand out on the market through creativity and design
Raffaele Bastianoni Owner